Today at The Kettlebell Club?
Upcoming Workshops - HKC and Mobility
2/11/17 - The Movement Pro Mobility Certification - The Kettlebell Club, League City, TX
4/1/17 - HKC Kettlebell Certification - The Kettlebell Club, League City, TX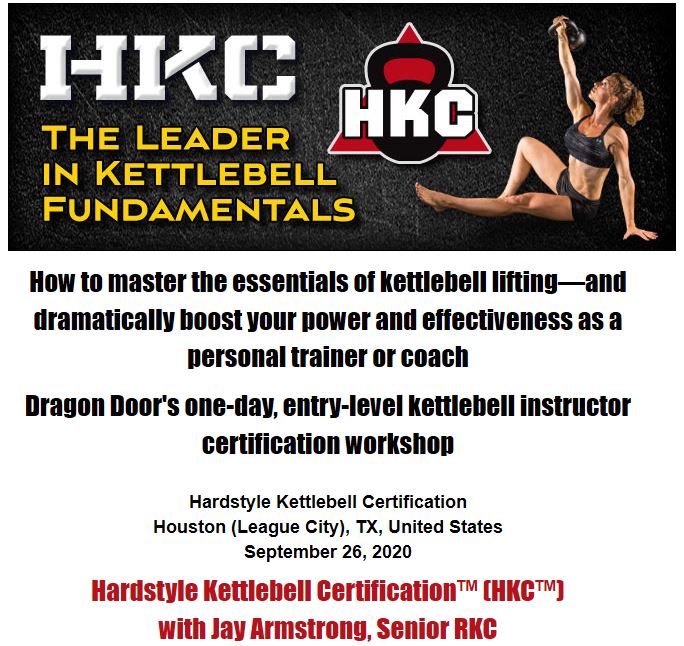 2/11/17 - Movement Pro Mobility Certification - The Kettlebell Club, League City, TX

Want to know more about The Movement Pro Mobility Certification?
Mobility = Youth
So, the question is "How do I move better and improve my mobility so that I can stay young , pain-free, and athletic?"
Jay Armstrong will be conducting a one-day training workshop in the practical application of neuro-based mobility training. This training will help you learn why and how to counteract the immobility that comes from any repetitive training or from just sitting at a desk or in a car for countless hours each year.
If you want to become the exceptional athlete you were destined to be then this workshop is for you!
What you will learn:
The Movement Pro Basic Mobility Sequence
Joint-by-Joint Analysis and Rehabilitation
The Most Common Counter-Active Requirements
How, Why, and When to Incorporate Mobility Training into Your Current Activities.
The Brain Science Behind Mobility Restrictions
| | | |
| --- | --- | --- |
| | | The Straight Leg Floor Mobility Sequence for Improving Hip Range of Motion |
Sign up early! Space for this workshop is limited to 14 people and it is filling up fast.
Click Here for More Info on the Movement Pro Mobility Workshop...
Masters Breaking Clinic
Master Terrell Manasco and Master Jay Armstrong recently teamed up to present a one of a kind event -- The Masters Breaking Clinic.
Have you ever been curious how martial artists break boards and bricks with their bare hands and feet? The SECRETS were revealed in this 4 hours clinic! Tae Kwon Do and Kung Fu are two popular martial arts that are rarely seen together. Tae Kwon Do originates from Korea and Kung Fu has its roots in China. Tae Kwon Do is characterized by hard-style kicking and punching while Kung Fu is characterized by a focus on internal energy systems.
We are working on a DVD of this amazing event and hope to make it available to you soon!
------------------------------------------------------------------
Compromised Thoracic Mobility - This Century's Biggest Problem?
| | | |
| --- | --- | --- |
| Americans are mutating into a race of seated, hunched-shoulder, neck forward, upward-looking creatures – completely devoid of the ability to move properly. | | |
Not only does sitting at a desk and/or computer create this problem and then make it semi-permanent but the American gym mentality that requires large pectoral muscles and a six-pack tends to work to shorten the front-side musculature at the expense of the thoracic spine and rib mobility. Read Entire Article...
NEW! -- Z-Health rehabilitation and athletic enhancement
Jay Armstrong has completed the Z-Health Master Trainer program.
This modern system treats the body as whole. The Z-Health system acknowledges the body and mind as an integrated system that is controlled by the body's brain and neurological systems.
Call or email Jay now for more information about this AMAZING (yet simple) way to improve your performance and reduce chronic pain.
Jay recently held an "Intro to Z-Health" mini-clinic. Attendees were astonished at the magic of "Z". Here's what one athlete said:
-- "I got a lot out of the clinic and am learning the warm-up sequence and plan to do it every day. I have my wife doing it as well and she has found it to be eye opening. ... I appreciate the knowledge and experience that you bring to the table." J.E. 3/15/10

Kettlebell Training
Individual instruction
Jay Armstrong offers a limited number of 1 on 1 private kettlebell instructional sessions. Find out more about Private Kettlebell Instruction in Houston
ONGOING CLASS INSTRUCTION
The Kettlebell Club has classes many days of the week. Get your workouts in and receive instruction at the same time. What's on tap this week in class? Get to the next class and find out! View Houston Kettlebell Class Schedule