Class Schedule
Classes offered 5 days a week!
We think its important to have classes at times that are convenient to our students. That is why we have morning, evening and weekend classes. Classes are open to everyone!
Sunday 8:30 AM
Monday 6:15 AM
Tuesday No Class
Wednesday 6:15 AM
Thursday No Class
Friday 6:15 AM
Saturday 8:30 AM
The Kettlebell Club
629 Highway 3 South
League City, TX 77537
Above the offices of SCS
832-687-6661
Class Structure
The Kettlebell Club is dedicated to establishing a solid foundation for the pursuit of physical fitness and mental well-being!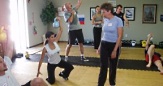 Everyone is created equal!
Men and Women are treated the same. We do not see any limitations to one's ability to become physically fit, therefore we see a lot more women excel under these conditions.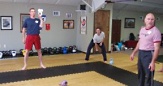 Classes are teaching clinics.
We understand that if your going to do something, you need to do it right. Our goal is for you to improve your technique each time you come to class... while your getting a kick-butt workout!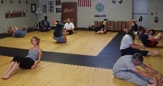 Learn to expect the unexpected!
Although Kettlebells are the tool of choice, many other disciplines are brought into the class environment. Yoga, pilates, Gigong are just some of what you can expect in class. The mix is unlimited!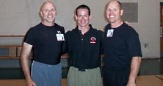 Expert Instruction!
Jay A. and David C., both RKC certified AND AKC certified,, have the necessary tools to teach anyone how to improve their life by becoming physically fit . They believe that......... Kettlebell Training is the way!