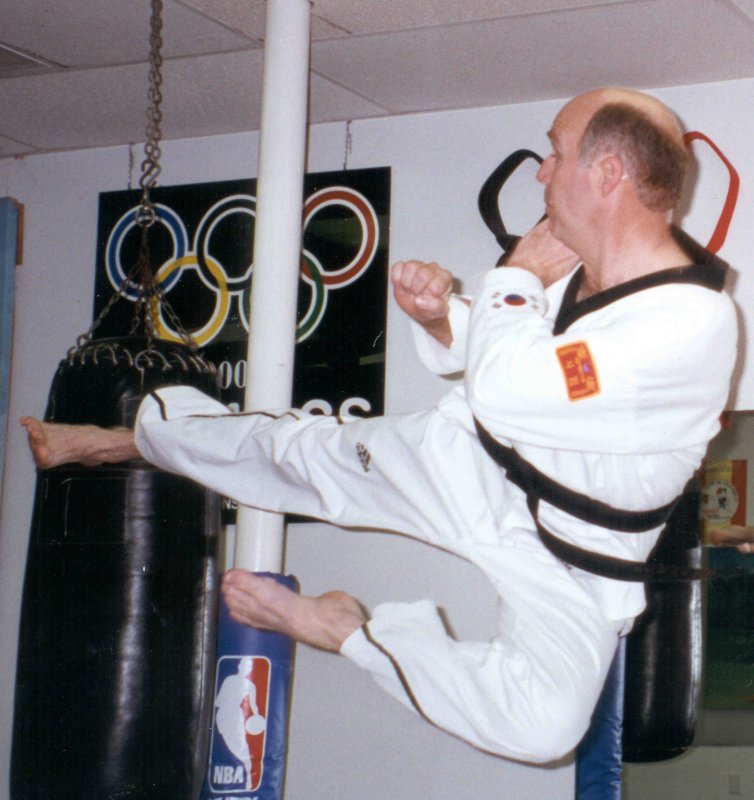 Flying side kick - 1996 (above)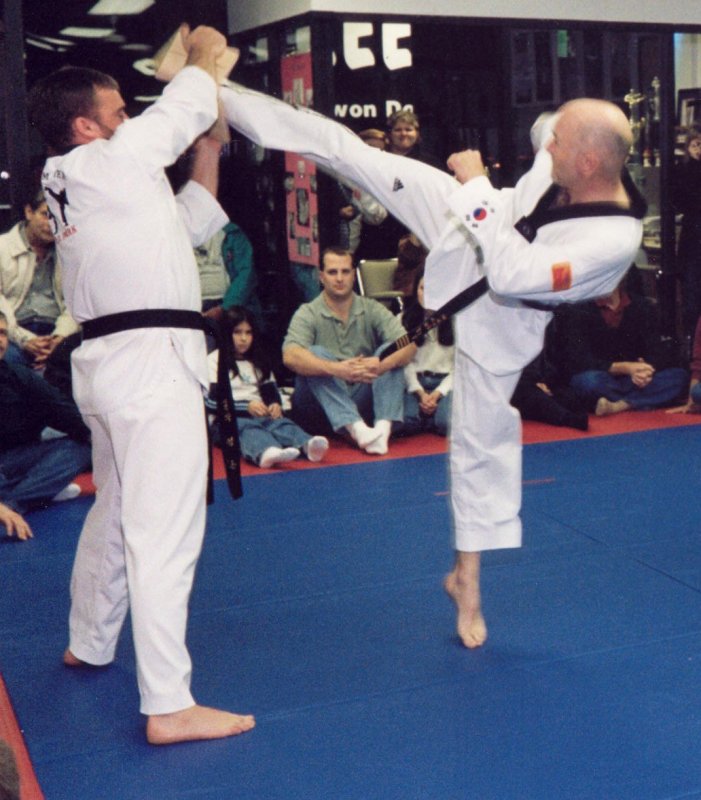 Jumping instep board break - Dec 2004 (Above)
(Below) Atrophy of Left Quadriceps - Nov 2009, (Left Quad=52cm, Right Quad=55cm)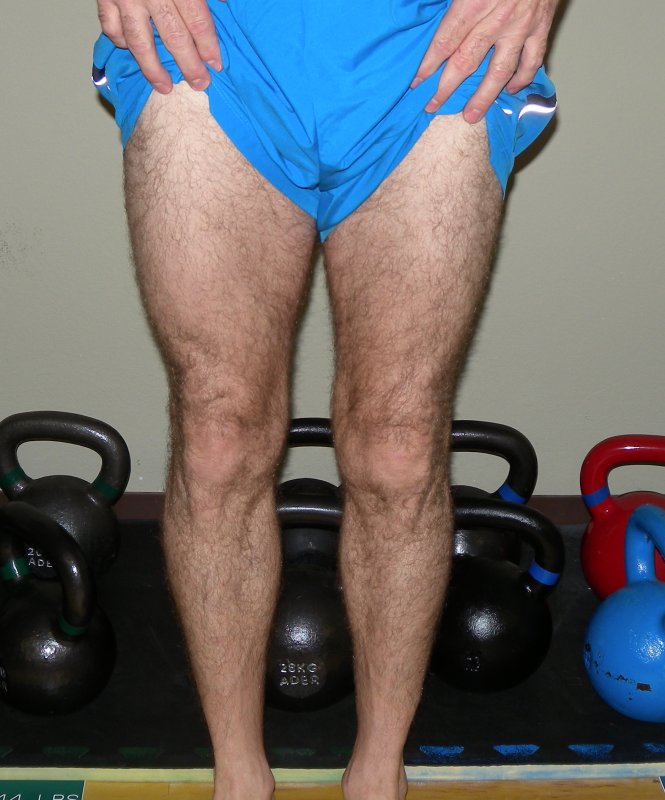 Jay's Z-Health Journey
I was sparring with one of the students when I heard something tear during a kick. I was talking to the doctor after the surgery when he gave me the bad news ... the lateral meniscus repair went okay but he had decided to "polish the femur" during the procedure. I told him that running caused pain and swelling. His response was, "that is probably as good as it will get".
This was in July 2003.
As a result of this botched surgery, I stopped running completely and found Tae Kwon Do practice much more difficult. Lateral movements and jarring impacts caused pain therefore tournament competition was not happening. I continued to train through the pain and received my 5th degree black belt in December 2004.
Shortly after that David Cogswell introduced me to kettlebell training. I was very excited! Here was a way to maintain my strength and endurance without running, jumping, or kicking. I began training through the pain with new enthusiasm, got RKC certified in May 2005, and David and I started The Kettlebell Club in June of 2006.
From July 2003 until June 2009 the knee pain increased, the range of motion decreased, I stopped doing weighted squats, and the future looked quite bleak. I located and consulted with nearly a dozen orthopedic specialists during that period. All of them told me the outlook was poor. They said the best option would normally be a knee replacement, however I was 1) far too active; and 2) too young for a replacement knee that has a 10-year life expectancy. So, I wore a knee brace, applied ice after every workout, and popped anti-inflammatory drugs like candy.
Fortunately, at the June 2009 RKC II, I met Katie Bigelow. She is an athletic, young lady who was taking the course and doing an impressive job. One evening, she told me her story of knee injury, pain, and eventual rehabilitation through Z-Health. She is one of only a few Z-Health Master Trainers. Her story inspired me and encouraged me to finally attend my first Z-Health certification in August 2009.
As a result of 3 months of R-Phase training ... I have stopped using a knee brace and ice, I have stopped using anti-inflammatory drugs on a daily basis, the range of motion in the knee has increased, and the pain has decreased!
I now know that I have much farther to go but I am actually getting BETTER for the first time in years! Dr. Cobb observed that there is atrophy in my left quadriceps as a result of avoiding the left knee. I am planning to use this webpage to document the continued progress toward regaining full strength and mobility in the left knee.....